Operation Every Game - Adventure Log NES - Page 4
2012-08-15
CURRENT STATS:
Games: 715/778
Cost: $11089.50
---
Log Entry 37: Getting Down to Just the Rare Stuff - Nov 17, 2013
Picked up many more rare titles this month.
First I met with my contact Jimmy and picked up the following titles, most of which are pretty hard to find and getting more expensive each month.
The games include: COWBOY KID $95, DRAGON FIGHTER $133, Little Ninja Brothers $43, PRO SPORTS HOCKEY $74, RACE AMERICA $28, SQOON $35, SWAMP THING $45, Wacky Races $92, Wayne's World $110, and ZEN Intergalactic Ninja $35.
At Vintage Gaming, on Wellington Street in Toronto where I previously picked up Caltron, I picked up a Metal Storm for $70. This is another I let get away from me since it was going for $50 when I started this log.
Finally on Kijiji in Peterborough I found an ad for a great gaming booth at Lakefield Flea Market. The booth had a ton of great stuff for all consoles. For the NES I managed to pick up: Crash 'n the Boys: Street Challenge for $20, and a complete Baby Boomer for $95. I'm going to put that down for $55 since that's the best price I've seen recently for the cart only.
Stats Increased!
Games: +13
Cost: +$830
---
Log Entry 36: A Lot More Finds - Aug 7, 2013
Another trip to the Flea Market where I found Ren & Stimpy for $20 and Operation Secret Storm for $40. Operation Secret Storm was a great find since it apararently is worth 3 or 4 times that amount.
Earlier in the week I also visited A&C Games where I grabbed Motor City Patrol $50, Stack Up $50, Metal Fighter $15, Shockwave $20, L'Empereur $40, and S.C.A.T. $110. S.C.A.T. was an annoying buy because I could have gotten it at the beginning of the year for $65 but it turned out to be one of those games that's jumped up in value like crazy.
I also met with Kijiji contact Jimmy and got the following off of him: BEST OF THE BEST Championship Karate $21, DONKEY KONG $33, FISHER-PRICE Firehouse Rescue $21, GODZILLA 2 $85, GRADIUS $10, Great WALDO SEARCH $19, INDIANA JONES and the Last Crusade $22, KING'S QUEST V $21, KRION CONQUEST $26, LETHAL WEAPON $20, MIRACLE PIANO $13, Mission Cobra $35, Ms. PAC-MAN Namco $30, ROMANCE OF THE THREE KINGDOMS II $25, TERRA CRESTA $20, and TOWN & COUNTRY Surf Designs Thrilla's Surfari $15.
At this point, I'm still seeing titles I need in stores, but the prices are generally higher than eBay. I've turned to my favourite eBay sellers to get a lot of titles that I don't see around, or that have much better prices than I've seen around.
These titles include: ARKANOID ($8), BRAM STOKER'S DRACULA ($24), BREAK TIME NES NINTENDO GAME ($8), CHAMPIONSHIP POOL ($14), DANNY SULLIVAN'S INDY HEAT ($15), FORMULA ONE, BUILT TO WIN ($14), PAPERBOY 2 ($17), SOLITAIRE ($23), SUPER CARS ($12), and ULTIMATE LEAGUE SOCCER ($15).
Stats Increased!
Games: +34
Cost: +$891
---
Log Entry 35: More Titles From All Over The Place - Mar 4, 2013
A ton of finds this week at quite a few shops all over Toronto. I visited Game Centre, A&C Games, Hi Tech Video Games, and Xtreme Games Interactive.
Batman: Return of the Joker $5, Bucky O'Hare $10, Double Strike for $20, Faria for $60, Frankenstien: The Monster Returns $20, Ghost Lion $35, Mario is Missing $20, Mutant Virus $20, Sky Kid $10, and Stinger $10.
The following week I found the following NES games at the Pickering Flea Market.
Phantom Fighter $5, Secret Scout $50, Star Force $5, Street Cop $10, Super Spy Hunter $5, Taggin Dragon $50, Talespin $10, Top Player Tennis $1.
One of the vendors from the flea market also opened a new games store in Pickering called We Got Gamez. There I picked up Chiller $70, and Monster Truck Rally $25.
At Chumleighs in Peterborough I found Crysalis for $7 and through a Kijiji meet there I found Blues Brothers for $30.
Stats Increased!
Games: +22
Cost: +$478
---
Log Entry 34: Great Start the Year - Feb 14, 2013
A bunch more finds this month at Game Centre in Toronto, in Milton, and from eBay.
From eBay I picked up: Battletank $5, BeetleJuice $8, Deathbots $14, Eliminator Boat Duel $8, Galaxy 5000 $18, Joshua: The Battle of Jericho $8, Nigel Mansell's World Championship Racing $6, Star Wars $10, and Smash TV $8.
At Game Centre I found Casino Kid $4 and Jeopardy: 25th Anniversary Edition $3.
At I was able to get some great deals including: Attack of the Killer Tomatoes $10, Bandit Kings of Ancient China $35, The Bard's Tale $8, Home Alone $5, Mickey's Adventure in Numberland $25, Puzzle $10, Robocop 3 $15, Silent Assault $30, and Tecmo Bowl $5.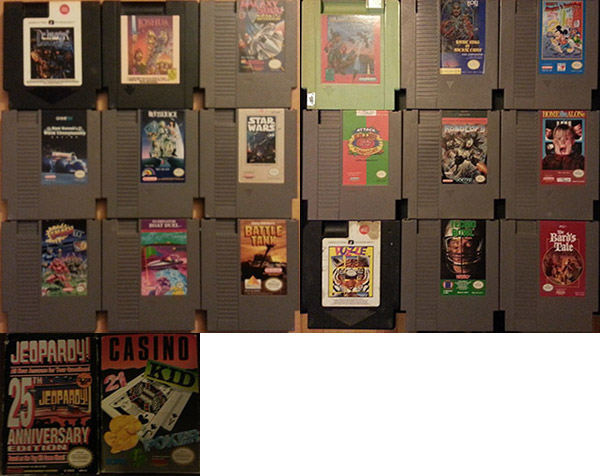 Stats Increased!
Games: +20
Cost: +$235
---
Log Entry 33: Internet Buys - Jan 20, 2013
Getting tough to find alot of titles around now so I turned to eBay and jjgames.com again for another round of buying.
Picked up the following games:
Advanced Dungeons and Dragons Dragon Strike - $26
Adventures of Lolo 3 - $34
Bugs Bunny Crazy Castle - $8
Cliffhanger - $19
Darkman - $6
Death Race - $44
F-117A STEALTH FIGHTER - $8
GOAL TWO 2 - $18
Impossible Mission II - $16
Isolated Warrior - $12
Jackie Chan's Action Kung FU $23
Little League Baseball - $6
Ninja Crusaders - $9
Quattro Arcade - $13
Raid 2020 - $12
Sesame Street 123 and ABC - $6
Star Trek 25th Anniversary - $7
Star Wars The Empire Strikes Back - $11
Teenage Mutant Ninja Turtles TOURNAMENT FIGHTERS - $70
Treasure Master - $5
Twin Eagle - $6
ULTIMATE AIR COMBAT - $20
Wolverine - $7
At a fairly new retro store on Wellington St in Toronto called Vintage Gaming I picked up a complete Caltron 6 in 1 and Donkey Kong Jr. Math. The Caltron was a great price for a complete box, but seems like the cheapest I've seen a cart only version one is $270 so I'm going to use that for the list. Donkey Kong Jr. Math was $65.
On another trip to Peteroborough this week I also picked up a couple great finds including:
Fisher Price: I Can Remember - $10
Dragon's Lair - $20
Klax - $2
Temrinator - $7
Stats Increased!
Games: +29
Cost: +$760
To Be Continued...
---
Log Entry 32: Big eBay Package - Dec 12, 2012
The thing about eBay, once you start and when you get to the point where it's tough to come across the titles you're still looking for in stores, it makes it easy to pick up cheap missing titles.
ADVANCED DUNGEONS AND DRAGONS POOL OF RADIANCE ($28), DUDES WITH ATTITUDE ($12), DUNGEON MAGIC ($6), KLASHBALL ($8), KRAZY KREATURES ($12), MASTER CHU AND THE DRUNKEN HU ($38), MICKEY'S SAFARI IN LETTERLAND ($9), PYRAMID ($6), SESAME STREET COUNTDOWN ($7), SUPERMAN [not pictured] ($11), THUNDERBIRDS ($9), ULTIMA QUEST OF THE AVATAR ($12), VENICE BEACH VOLLEYBALL ($13), VOLLEYBALL ($7), WILD GUNMAN ($17)
Stats Increased!
Games: +15
Cost: +$195
---
Log Entry 31: eBay Rare Drops - Dec 10, 2012
There are quite a few titles for the NES that are VERY rare. Not the crazy stuff that alot of people know about like Stadium Events or Cheetahmen 2, but the titles that fall into the 500-900 range that most people don't know exist. As an aside, screw you Taito for releasing so many rare titles!
Recently on eBay someone was selling nearly every rare game in the NES collection, and while I was outbit on about 20 items by an annoying user who kept bidding more than the games are worth, I managed to snag two of the most expensive items in the lot.
These include The Flintstones: Surprise at Dinosaur Peak and Little Samson for decent prices considering what these go for when they do popup. Picked up several other rare titles for great prices too. The one title I was really annoyed to lose from this lot is Power Blade 2.
Color A Dinosaur ($60), Dusty Diamond All-Star Softball ($28), Flintstones: The Surprise at Dinosaur Peak! ($660), Indiana Jones and the Last Crusade ($92), Little Samson ($513), Mega Man 5 ($33), Panic Restaurant ($204)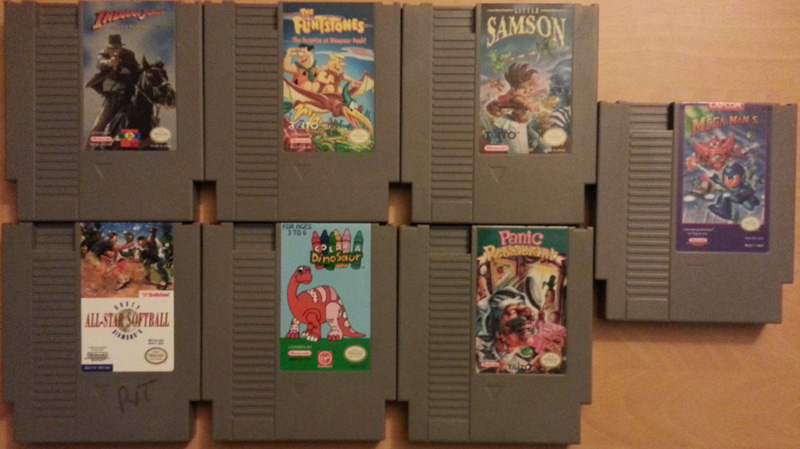 Stats Increased!
Games: +7
Cost: +$1590
---
Back to Article: Operation Everygame.